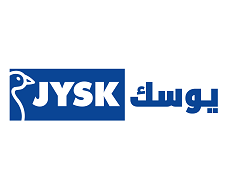 JYSK
Welcome to SCANDINAVIAN SLEEPING & LIVING
JYSK opens an average of 2 new stores every week and is among the largest retailers of duvets, pillows and mattresses in Europe. In fact we sell approximately 3.8 million mattresses and more than 10 million pillows each year. We also cover the rest of the home, such as furniture, bed linen, garden furniture and bathroom accessories. Conveniently located on Umm Suqeim Street, JYSK UAE promises quality sleep and value for money for everyone.
Who is JYSK?
In 1979, Lars Larsen opened his first JYSK store in Denmark, with a mission to being a great Scandinavian offer for everyone within sleeping and living. At JYSK we are proud of our Scandinavian roots. Our simplicity in design and quality of products live up our customer's expectations of durability for everyday use. In the UAE, JYSK opened its doors on March 2018 with its flagship store on Umm Suqeim Street.
Great OFFERS
At JYSK, we are known for giving great offers to our customers. We choose products that meet our customer's needs, and we buy in large quantities which allows us to offer great quality at a low price. Our assortment is divided into three categories:
BASIC PLUS GOLD
Reliable Quality
At JYSK you get products that are built to last with guarantees .On Gold mattresses, one guarantee is up to 25 years. That's how much we trust that our product will last.
Easy Shopping
Enjoy a quick and convenient experience, we are accessibly located on Umm Suqeim Street, and will soon reach a community near you. At JYSK we are committed to bringing our shopping experience as close as possible to all our customers and to make the shopping experience as easy as possible.
Competent Service
Our 40 years expertise in good night sleep keep our customers coming back. JYSK UAE store managers come straight from Denmark to ensure proper and exhaustive training to our local staff, to guarantee that you get the best advice on quality.
Sunday - Thursday 10:00 AM – 10:00 PM
Friday - Saturday 10:00 AM – 12:00 AM
Location:
Lower Ground